Being pregnant is always so exciting but the thought of a twin pregnancy can both be elating and overwhelming.
The only way to really confirm if you're gonna have doubles is with an ultrasound but there are some signs you can look out for they may give you some hints.
Below is a list of signs of double trouble 🙂 coming your way.
***Have You taken a prenatal birth course yet? Don't have time? Well then, you can sign up for an online course by labor and Delivery nurse Hillary from Pulling Curls. It's the premium online birthing course that has gotten rave reviews. You'll learn everything you need to know in about 3 hours. You can check it out here.
By the way, this post contains affiliate links at no extra cost to you. As an Amazon Associate, I earn from qualifying purchases. 
Early Signs You're Pregnant With Twins
Pin it on Pinterest For Later!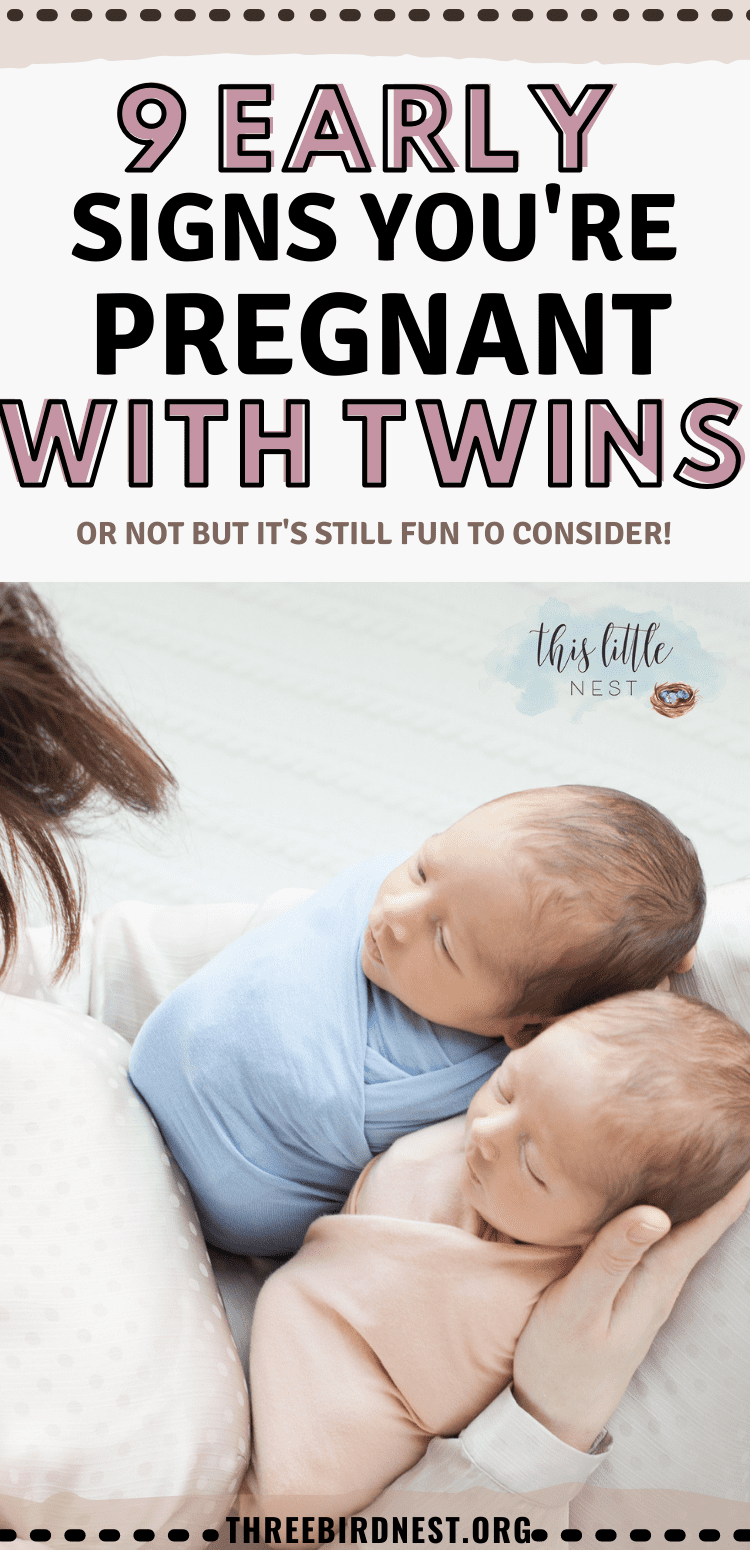 Very Early Positive Pregnancy Test
If you're pregnant with Twins you may get a very early positive. Maybe as early as 3-5 days early.
If you are using a regular pregnancy test and get an immediate positive (especially a very dark positive indicator)  days before your period is scheduled, there may be an increased chance that you are carrying twins.
This is not definite of course, but it sure is a good sign that you have extra hormones in your bloodstream.
High Levels of HCG
This goes along with what we were discussing above.
HCG is the pregnancy hormone that will give you a positive on your test, and with twins, this will be very elevated.
You can also get an HCG blood test at the doctor if you're really curious.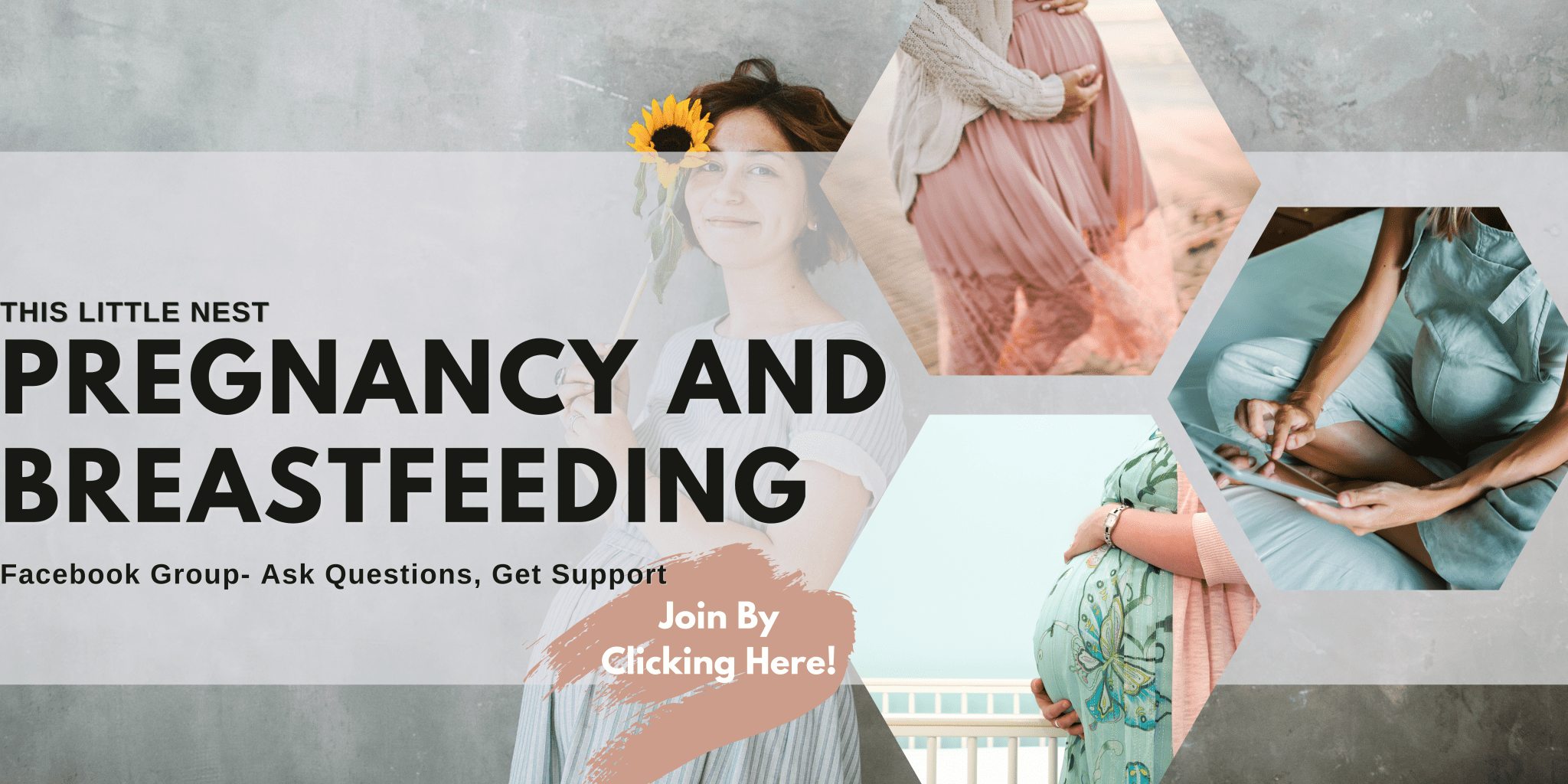 ****Want Freebies For You And Your Baby?  Get $330 Worth Of Gear! I have partnered with many companies to give you the best baby freebies online including Nursing Pillow, Pregnancy Pillows, Nursing Covers, Baby Leggings, Baby Clothes and so much more. You can find out how to get your freebies in this post right here.
Early Progression Of Pregnancy
If you wake up one morning and it just seems like your belly grew overnight and you feel 4 months pregnant during your second month then it's possible it's twins.
Especially if it's your first pregnancy and it progresses very quickly.
Voice your thoughts to your doctor so they can check your HGC levels to see if it's elevated above normal.
Severe Morning Sickness
Severe morning sickness may or may not be a sign.
Let's face it, some women have TERRIBLE morning sickness with just one babe, but if your tummy is expanding super fast AND you got an early positive on a test on top of severe sickness, you could be on to something.
These Tummy Drops work wonders on Morning Sickness by the way and you can order them on Amazon.
Extreme Fatigue
Extreme fatigue is a part of all pregnancies.
After all, you're growing a tiny human, but if you are in a near coma perhaps there are two little beans in there.
Get extra rest and check with your doc.
Headaches in First Trimester
Headaches usually begin to occur in the second trimester due to all those pesky hormones.
But a common thread with twins pregnancies is bad migraine-like headaches that start early.
You can check with your doctor if you begin getting terrible headaches in your first trimester.
High Blood Pressure Early On
High blood pressure early is also another side effect of a twins pregnancy.
Sometimes high blood pressure happens to the healthiest moms. It's unfortunate but not uncommon during pregnancy.
It typically occurs during the last stages of pregnancy, but with a twins pregnancy, your blood pressure can shoot up as early as the first trimester.
This is definitely a signal for your doc to do more tests and to check your hormone levels.
Lots of Extra Cramping 
If you happen to be pregnant with twins you may have some extra cramping.
I mean there is a LOT of stuff going on in there and it's a tight space.
Cramping can seem severe at times but it's usually normal. Contact your doctor if you feel concerned.
Quick Weight Gain Early
If the scale is moving up at record rates early on this could also be a sign you're pregnant with twins.
You should gain pretty slowly for the first trimester and at a steady and easy pace during the second.
But if your weight starts jumping up quickly and it begins in the first trimester this could mean two buns in the oven.
It could mean you're eating too much too though so make sure you consider that before jumping to any conclusions.
These are a few signs that could indicate you may be pregnant with more than one baby.
If you have a couple of these symptoms it's probably just a normal pregnancy but if you find that many of the things on the list are happening then there's a great possibility you could be having twins.
Bring up your suspicions with your doctor so they can do some extra tests.
Good luck to you mama!
If you loved this post and found it helpful it would be awesome if you could share it or save it on Pinterest! You can use the special images below that I created for you! Thanks!
Pin It On Pinterest For Later With These Special Images!